Experience the blissful comfort of ORO in Skiathos Town
Set on the Greek island of Skiathos, ORO Skiathos welcomes you to immerse in an unforgettable summer getaway experience. Our accommodation in Skiathos Town offer a free buffet breakfast and is only 0.8 km from Megali Ammos Beach. Our accommodation will provide you with the best amenities throughout your relaxing stay. Enjoy a relaxing stay in our swimming pool or lounge in the balcony overlooking the sea view.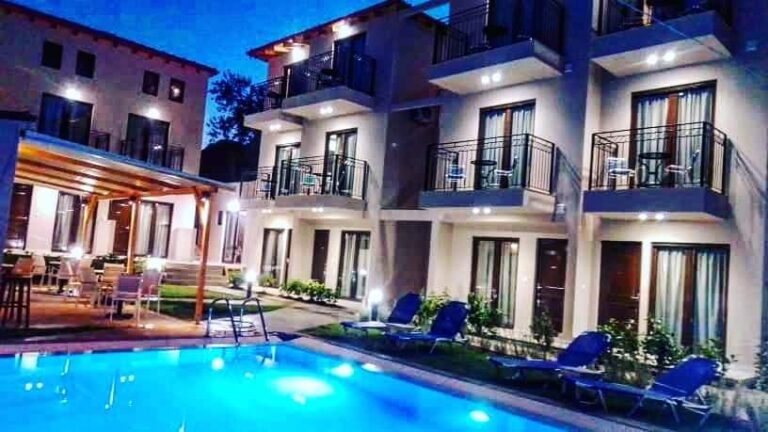 ORO is a family-owned accommodation in Skiathos Town. At ORO Skiathos, we welcome summer travellers to experience the tranquillity of Skiathos. Featuring a swimming pool and a free buffet breakfast, ORO Skiathos is a welcoming haven for families, couples, or solo travellers. Enjoy the breathtaking sea view or swim at Megali Ammos beach, located only a 10-minute walk from our accommodation in Skiathos Town.
ORO Skiathos promises to cater your priority needs, therefore we happily provide varieties of room and amenities. From free airport transfer to spacious family rooms, we offer a personalised hospitality for you.
ORO Skiathos features the popular family, double or twin rooms. Our rooms are also equipped with a flat-screen TV, en-suite bathroom, and a balcony. To give you the best experience, our rooms come with the varieties of relaxing views such as the pool, the town or the sea view upon your request.
We are delighted to provide you with our complimentary services at your convenience. Our swimming pool is footsteps away from your rooms, we also provide a fax machine, photocopier and an ATM. Car hire is available with extra charges. 
Maximise the comfort of your stay at ORO Skiathos. 
From ORO Skiathos, The Skiathos' Port is 600 meters away while Papadiamantis' House is 650 meters away.
You can reach us by bus, at stop #4 Acropoli with only a 10-minutes walk. The nearest airport is Skiathos International Airport, 1.6 km from our accommodation. We happily provide a complimentary airport transfer for your convenience.
Please don't hesitate to contact us for other enquiries. We are always happy to help.
You can find more information about the island by visiting the official website of the municipality of Skiathos. Also, here is a guide of the top activities in Skiathos including the best beaches and attractions.